The stock porting is large, but -- it is very sharply angled. The first step is to raise and splay the intake ports. This is especially useful for grafting on FCR down-drafts. The ultimate would be to install larger valves, raise both intake and exhaust ports. The exhaust cannot go much higher without impinging on the cam oil gallery; there is ample room to go wider, though. The intakes could be straightened and moved outward to accommodate larger carbs. Note below how little room Yamaha gives the posrtsmith:
I experiment with 700 heads - there is no shortage of them.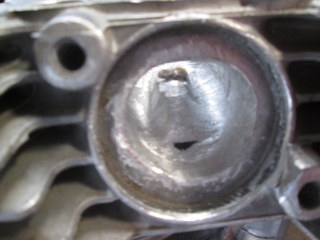 Heads are almost identical throughout the line. After all, the cams, rockers, and gaskets (except the head) are all the same - or close in the case of cams. I ruined a stack of 920 heads before I moved all the practice to 700s. There is very little room between the stock exhaust port and the cam "gallery." Which is really a shame: the straighter a port the better. Trying for much straightness on the exhaust is very limited. I have had a few customers who have "cored" out the intake flanges/ports and welding them in at a steeper angle. This does pick up some power, but it is a lot of work and fabrication and a frame that has been opened up. This is beyond my abilities and equipment: straightening the intakes is up to you.
Last Modified: Mon => 02:56:19 AM PST - 09 Dec 2019 America/Los_Angeles