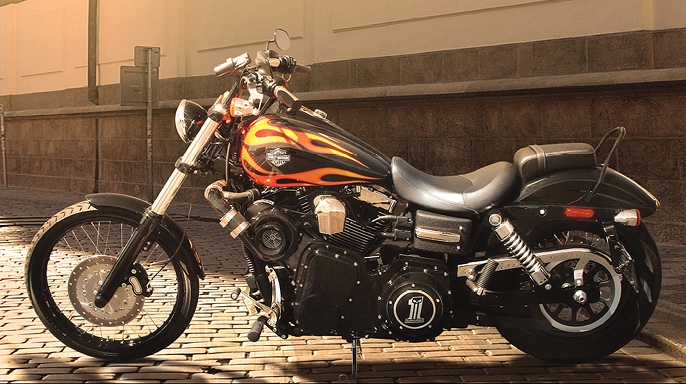 First off: if you don't give a damn about the Virago series and are just here to see kits for American iron, see Harley Davidson ProCharger kits. After checking out that page, click Prices to see what they go for. You may then skip the rest of this page. A Chart.
Just got word from ProCharger -- we're a dealer for them now. Thus far, their only foray into two wheel applications has been centered around a certain Milwaukee-based concern, so we'll be developing a couple of systems from scratch. The work-a-day version shall be based on their B series blower and total out in the four to four and a half range (realistically, expect five plus). The power-hungry will be interested in their C1-R blower. With all the accouterments we're looking at close to six -- perhaps six and a half.
Nothing is definite yet, but expect the smaller unit to come with either a 42mm Mikuni carb or a single throttle body EFI system. The upper range systems will be a choice of a single throttle body or a pair of them. I've been very optimistic on the costs of machine work and parts fabrication: perhaps too optimistic. Remember these kits are custom-made for bikes that: 1) are long out of production, 2) range in age to over thirty years. I like the belts and pulleys to hang out in the open air, but I suspect that ProCharger is going to want me to enclose everything. This means substantial fabrication and I may need the services of a foundry for some of the parts (a manifold between the heads comes to mind).
As I say, we are a ProCharger dealer, but don't expect any products ready to bolt on your Virago any time soon. For the time being, expect soonish for a ProCharger page to go up with some of their HD products on it Any B-1 or C-1R blower or peripherals that you want, message me and I'll sell it to you at list, absorbing the shipping costs from them to me, then from me to you. I'm sorry that I can't do better, but there is no margin to speak of on these products. If you're interested here are some stops we made along the way.
As our association with ProCharger is brand-new, and there is (as yet) no bolt-on kit for the XV series, there will be nothing stocked for a while. Anything in their motorsports catalog will be available for special order. Lets start with components which May be applicable to the Virago and its kin:
Part Number
Description
Price
PC063A-001-C
B-IR ProCharger (Specify Direction Of Rotation)
$1,799
PC061A-001-R
C-1R Race (Clockwise Only)
$2,799
-P
Polishing For B Series
$200
-B
Black For B Series
$250
-P
Polishing For C Series
$250
-P
Black For C Series
$300
Supercharger Oil And Maintenance Components
ME001G-002
2.5 OZ SC Oil 4 Pack Bottles
$21
ME001A-002
2.5 OZ SC Oil Single
$8
AF0561-010
Round Bonnet Reusable Air Filter
$50
Carbureted Fuel System Components
Part Number
Description
Price
Carbureted Fuel System Components
PHF01A-002
Boost Ready Carbureter 42mm Mikuni
$550
PHF01A-002-P
Boost Ready Carbureter 42mm Mikuni - Polished
$725
PHF01A-005
Boost Ready Carbureter 45mm Mikuni
$725
PHF01A-001
Fuel Pump and Boost Reference Reg Assembly
$550
3HDFP-001
Fuel System Parts Bag (Lines, Fittings, Connectors)
$93
3HDFP-005
Black Face Vacuum/Boost Gauge Kit 2 5/16" (0-30/0-20)
$68
3HDFP-006
Black Face Vacuum/Boost Gauge Kit 2 5/16" (0-30/0-20)
$68
Drive System Parts
Part Number
Description
Price
Drive System Parts
DPXXI-004
4 Rib Supercharger Pulley (All Sizes)
$89
DBXXXI-004
4 Rib Serpentine Belt (All Sizes)
$50
DP-RACE
Race Supercharger Pulley
$225
DBXXXI-021HT
Cog PTO Belt (All Sizes)
$85
$
$
$
Intercooler Systems and Conponents
Part Number
Description
Price
AIPHIUA-XXX
Touring Side (Specify Type)
$550
$
$
$
$
AV003I-001
By-Pass Valve
$67
AV006A-003
Bullet By-Pass Valve
$291
Fuel Injected System Components
Part Number
Description
Price
FI001I-004
42LB/HR Injector Up to 120HP (pair)
$120
$
$
$
$
$
$
Miscellaneous Components
Part Number
Description
Price
PH001I-XXX-P
Bonnet Cover Polished
$125
$
$
$
$
$
$
Apparel and Banners
Part Number
Description
Price
PS009I-001
Shop Banner
$47
$
$
$
$
$
$
As a dealer, I am pretty much obligated to use ProCharger components wherever possible. That being said, individual parts from ProCharger, and from us (our fabrications and castings), could conceivably total out much less. BUT -- there are savings in kits, and warranties on them. Not to mention tech support from us and from ProCharger. If you cobble up something on your own, you are pretty much the only support available. Installations and dyno time will only be available for ATI approved kits.